Half Term and Halloween in and around Tavistock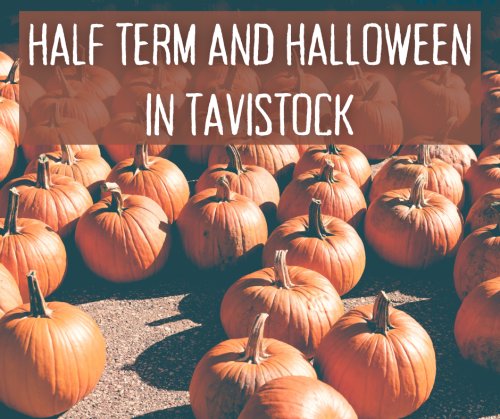 With the spooky season upon us you might be trying to plan some 'fang-
tastic
' days out with the family over half term. Luckily for you,
Tavistock
has plenty of great events and a
ttractions to visit throughout the week to keep everyone entertained.  
Tavistock Halloween Trail (22nd - 29th October)
Tavistock Town Centre always puts on a 'fang-tastic' adventure for little spook hunters. Wander around the town and keep an eye out for eerie houses and their ghoulish occupants. Find and identify all 16 and you will earn a special Halloween goody bag. What's more there are games to play along the way and could earn you a £10 Tavistock Gift Card to spend in town - what's not to love! The best bit… it's completely FREE to take part! Pick up your trail sheets from us at Tavistock Guildhall & Visitor Information Centre, Toy Cupboard or Kaleidoscope. Take part in the trail every day during half term, expect for Sunday 23rd October.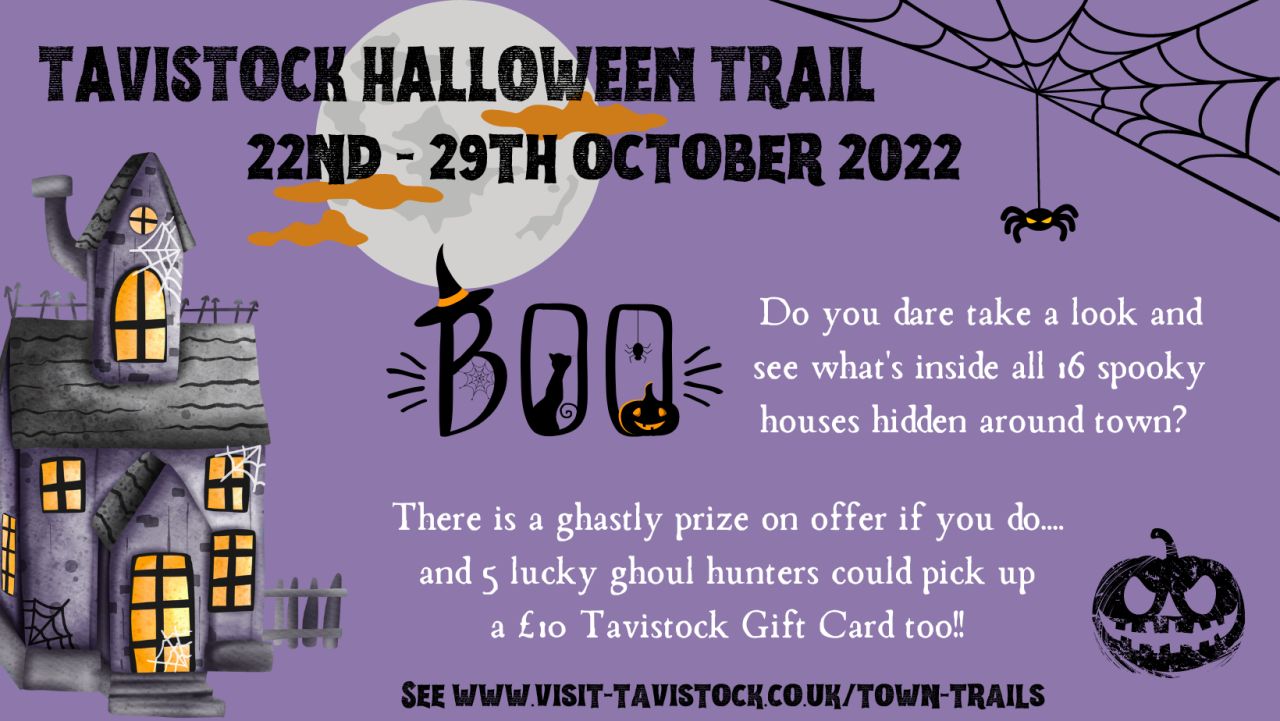 Tavistock

By

Twilight with Simon Dell

(22

nd
October)
Simon
Dell used to
walk the beat as a local policeman in Tavistock for four decades
so
he's had plenty of opportunities
to explore the darker side of Tavistock's history, find lost alleyways and spooky
oddities
.
Join him on this fascinating walk to explore
Tavistock at night and journey through the town's ominous history. It's the perfect introduction to the scary season!
Tavistock Cemeteries: Heritage walking tour (29
th
October)
If you love all things spooky, you'll certainly enjoy our cemeteries walking tour. Tavistock's long and rich history of Christian diversity reflects the availability of at least 10 different official burial grounds over the centuries, of which only one remains operational today. This 1 mile,
90-minute
walk explores
the last resting place for Tavistock's citizens since the Abbey was established in 947 AD. This tour will certainly get you in the mood to celebrate Halloween!
Halloween Woodland Trail and Haunted Hollow at Tamar Trails (22
nd
– 30
th
October)
Tamar Trail's Halloween Trail and Haunted Hollow is back for 2022! Follow spooky clues, try to spot the haunting figures and scary sights as you explore the woodland. If you're brave enough, you can discover what bewitching entities there are in the haunted hallow. Pick up your clues sheet from the Tamar Trails Centre and if you spot them all correctly you'll receive a special Halloween treat at the end.
Half Term Halloween at

Morwellham

Quay (27

th
– 31
st
October)
Visit
Morwellham
Quay during the latter part of half term to take part in their 'spook-
tacular
' Halloween event! Jump on the Scary Mine Train which takes you through the George and Charlotte copper mines with some spooky
surprise
s
hiding in the shadows. As well as this, you'll be able to meet the witch of
Morwellham
Quay, take part in some creepy crafts and enjoy some trick or treating, all included with your ticket!
Pumpkin picking at Strawberry Fields (22
nd
– 30
th
October)
Strawberry Fields are celebrating Halloween with their biggest Pumpkin Fest ever! They boast a huge pumpkin patch with a
large
variation of colours, sizes and shapes to suit all. As well as this, there's plenty of great photo opportunities, especially if you arrive in costume
,
and they're hosting a spooky magic show by award winning Magic Martin. You could also take part in their Halloween maize maze
,
if you
dare,
to help Wilma the W
itch complete her potion recipe.
Halloween

and Harvest Festival

at

Cotehele

(22

nd
– 30
th
Oct)
Cotehele's
resident
piskies
(the Cornish name for pixies) have been up to no good this Halloween! They've hidden a secret message around the gardens of the estate, can you find all seven of their secret houses and read the stories from local folklore to solve the mystery?
You can also soak up the autumnal atmosphere
during
Cotehele's
harvest celebration
over half term. Try your hand at the harvest crafts and indulge in a tasty treat made by their bakers.
Let us know
if you visit us
this
half term
on Facebook
and Instagram by tagging @
TavistockGuildhall
and @Taviguildhall on Twitter
. Stay up to date with the latest Tavistock Guildhall news and events by signing up to our e-newsletter.