Tavistock Guildhall announces the launch of their 2023 Tavistock Heritage Walking Tours Programme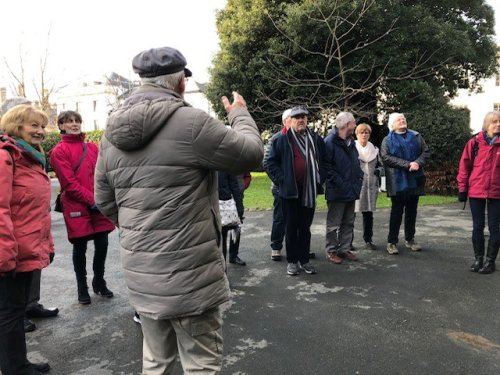 Tavistock Guildhall are delighted to announce the launch of their new 2023 walking tour programme. After excellent feedback from visitors from last year a new 2023 programme has been launched as this is the perfect introduction to the town for visitors and this gives them an overview of the wonderful heritage on offer in Tavistock.
The main walking tour – Discover Tavistock Walking Tour - Heritage Introduction, gives a gentle overview of the 1,000-year-old history for this World Heritage Town, the tour will take you on a journey through ten centuries, revealing Abbey and Churches, Mineral Mining, and the Industrial Revolution, plus much more.
The tour programme includes a wide range of guided walking tours to suit all tastes and walking abilities including a Pubs and Breweries tour which will take you to two breweries and 29 public houses, the Tavistock Abbey tour a short 90-minute walk exploring the remains of the Abbey. If you're a train or railway enthusiast, you'll certainly enjoy the 2-hour Railways tour, or if you like walks along the water, there is a Canal Walk where you'll pass the birthplace of Sir Francis Drake and even spot the resident kingfisher. There is also a Tavistock at Twilight Tour where you'll learn about the darker side of Tavistock
All monies raised through the walking tours helps maintain the up keep of the Tavistock Guildhall.
Geri Parlby Chair of the Tavistock Heritage Trust "We are delighted to announce the launch of our 2023 Tavistock Heritage Walking Tours programme as these walks enables us to bring the rich heritage of our wonderful town to life. We also have a wonderful group of volunteers who enable us to deliver these walking tours and support all our heritage work in Tavistock. "
The full 2023 walking tour programme is online and tickets can be booked at
Tavistock Guildhall Heritage Centre
For more information on Tavistock Guildhall and Tavistock Walking tours please visit www.tavistockguildhall.org