What's On at Tavistock Guildhall Over the Summer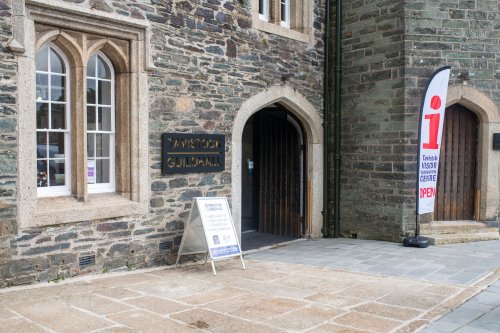 Here at Tavistock Guildhall, we have plenty of exciting and interesting events happening across the summer. From interesting talks to fascinating walks, there's something for everyone to enjoy! Read on to find out what's on at Tavistock Guildhall and Information Centre over the holidays.
Our Discover Tavistock: Heritage Walking Tour is the perfect introduction to exploring the town. This 90-minute walk will give you a gentle overview of Tavistock's fascinating 1000-year-old history and heritage. Taking you on a journey through 10 centuries, we'll be exploring the Abbey, many churches, mineral mining, the industrial revolution, and plenty of other exciting stories! The walk around the town is predominantly flat so it's suitable for most walking abilities.
Starting at St Andrew's Church in Whitchurch, our knowledgeable tour guide will take you on a walk around Whitchurch village and talk you though its history which expands from Norman times to the present day, with reference to the buildings and the people that have given this small village a wealth of character. This is a 2-mile walk with some grass-covered, sloping areas so appropriate footwear is essential.
Join us at Tavistock Guildhall on 4th August for a fascinating talk about the lives of the Mongolian and Kazakh nomads by Pam Kemp. Explore the stark differences between these two travelling communities and experience a life of being at one with nature and the elements.
Simon walked the beat as a local police officer in Tavistock for four decades meaning he's had plenty of opportunities to find lost alleyways, Abbey remains and unusual curiosities hidden in plain sight. Join him on this enlightening and fascinating walk to explore the oddities of Tavistock which may have been overlooked by many or left others feeling puzzled for decades!
Ian Gasper will transport you to the hostile, yet beautiful volcanic isles of the Galapagos which have been fundamental in understanding how life on earth evolves. The talk will follow a tour of the islands with photos of the incredible flora and fauna such as sea lions, giant tortoises, Galapagos cotton, Scalesia forest and much more!
Tavistock's canal is a truly beautiful landscape to explore. Our 3-hour and 5-mile walk will guide you along the (accessible) route of our picturesque canal from its source at Abbey Weir, around 2.5 miles to Lumburn, where the canal originally branches off to the slate quarry at Mill Hill. En route you will discover the role of the canal in developing the prosperity of Tavistock in the 19th century and you'll also pass the birthplace of Sir Francis Drake. Be sure to bring suitable footwear as this walk is fairly long!
Whilst most of these activities are suitable for children, each Wednesday of the summer holidays we will also hosting some game and crafts workshops between 10am – 1pm specifically for your little ones to enjoy.
Wednesday 27th July – William Morris Designs
Glass Painting, stained glass window colouring and make a William Morris bookmark.
Wednesday 3rd August – Mining Games
Bingo Game, Shafts and Ladders and panning for gold.
Wednesday 10th August – Getting Inventive
Create a collage machine, water play with water wheel and pump and make a Lego beam engine.
Wednesday 17th August – Modelling our town
Modelling and printing inspired by Tavistock's buildings.
Wednesday 24th August – Cops and Robbers
Make a wanted poster, dressing up as a court room character, make your own ID card.
Wednesday 31st August – Victorian Games
Play skittles, quoits, skipping, hopscotch and make your own spinning top.
Tavistock Guildhall and Information Centre will be open Tuesday – Saturday, 10am – 4pm throughout the summer for those who want to find out more about the Guildhall's fascinating history and the Cornwall and West Devon Mining Landscape UNESCO World Heritage Site. To stay up to date with our latest news and events follow us on Facebook, Twitter, and Instagram.